Aloha, We are home of the Four Winds II and the Maui Magic! The two best Snorkel Excursion Tour Boats on Maui. Join us for Daily Tours to Molokini Crater. We offer Whale Watching Tours and Private Charters.
Maui's #1 Snorkel Tour Company!
Looking for the best snorkeling on Maui? Call (808) 879-8188  for the best value and discounts on snorkeling activities. We offer Molokini Crater tours and other top rated snorkel spots. Snorkel or SNUBA see marine life, including: dolphins, green sea turtles, coral reefs, and tropical fish. We offer Humpback whale watching in the winter months. Your adventure awaits with Maui Classic Charters!
Whale Watching Season in Maui
Join us during the winter months and experience both whale watching and snorkeling on our tours. Cross two things off your bucket list when you join in on one of our whale watching and snorkeling combination excursions.
Get a front-row seat and experience Maui's best snorkel and whale watching tour. Watch the whales up-close and see their behavior as they breech, tail slap, blow, and much more! You might even catch a glimpse of a baby whale alongside its mother.
Did You Know?
Humpback whales travel over 3,500 miles from Alaska to Hawaii every year to breed, calve and nurse their young ones.
Humpback whales travelling small groups called a pod. A Pod typically consist of a mother whale, her baby, and a male escort whale protecting them.
Humpback whales do not eat while they are visiting the Hawaiian waters. There is no food source here for them.
Maui has the highest concentration of Humpback Whales that visit annually. The whales enjoy the shallow waters that surround the island and the protection that the other islands (Lana'i, Moloka'i and Kaho'olawe) provide from the open ocean.
Maui Snorkel Destinations
Molokini Crater Fun Facts
Molokini is world renowned for its exceptional water clarity with visibility up to 150 feet.
It was created from an eruption that occurred about 230,000 years ago.
Molokini is home to about 250 types of marine species making it some of Maui's best snorkeling.
There are 38 different types of hard coral species inside Molokini Crater.
The island is home to at least 2 different species of nesting seabirds.
Molokini is a Marine Life Conservation District and the island is a Hawaii State Seabird Sanctuary.
Molokini's literal translation means "many ties".
Turtle Arches
Found along the southern coast, near White Rock beach in Wailea, this location gets its name for the amazing coral formations shaped like arches formed long ago by volcanic eruptions. This is one of our frequent snorkel spots. We visit this location to see Hawaiian green sea turtles, beautiful coral, and heaps of fish who call this area home.
La Perouse
La Perouse (named after the French Explorer) is a protected area that is not easily accessible by land. Its rough lava terrain makes for difficult access and fewer people. The reefs are in pristine condition. Formed from the last eruptions of lava flow this rugged coastline view is rather dramatic. Marine species that frequent this area include: Green sea turtles and spotted eagle rays. The Maui Magic regularly sees Spinner dolphins in this area and the fish aren't shy here either. You can also see schools of Trigger Fish, Yellow Tangs, Damsel Fish and more. Due to wind conditions, we do not get to this spot as often as the others but it is a treat when reachable.
Pu'u Ola'I
A cinder cone off of the South Coast of Maui formed out of red lava rock. The mooring site is about 30 to 40 feet deep and is a great spot to explore the unique sea life that inhabits this area. There are a lot of Hawaiian green sea turtles here, along with eels, manta rays, and a variety of fish. This is an exceptional spot to try SNUBA. These lava rocks and tide pools were ancient Hawaiian fishing grounds. Rich in culture, there are even remnants of old Hawaiian temples (hei'au) and other structures here.
Makena Landing (Turtle Town)
Named for its high populations of turtles, these local residents have become a welcomed treat. Here the turtles feed on the algae growing on the rocks. Divers also frequent here due to the 5 Caves. The waters are clear and are often protected from the wind, making this a great snorkel spot.
West Maui Shoreline
Explore the dramatic coastline of South Maui like La Perouse Bay, where lava provides a rugged landscape in beautiful remote areas. As an added bonus, these areas are often where we see dolphins and turtles the most.
Coral Gardens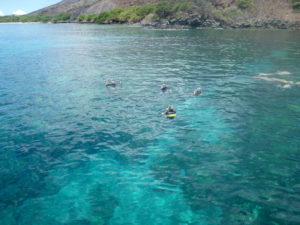 Accessible only by boat, due to the steep cliff lines, Coral Gardens is home to some of Maui's most beautiful coral heads (hence the name). Tucked away along the West Maui coastline, it provides excellent shelter from trade winds. Fish, turtles and even an occasional monk seal can be spotted here. Coastal Living Magazine has listed this as one of the top 10 snorkel sites in the world! We agree this spot has spectacular underwater views. This is one of the best spots to swim with sea turtles in Maui.
Olowalu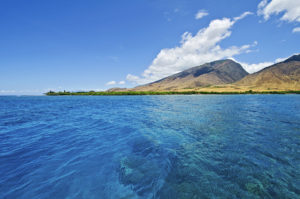 Located between Lahaina and Ma'alaea Harbor, directly off the Pali Highway is home to some of Maui's unique reefs. Olowalu is accessible by land and boat, this is often a popular spot for snorkeling (better viewed from a boat because of the water clarity off shore). Here you can view 100-year-old coral heads ribboned through sand channels and a vast array of fish and marine life as well as the mountain backdrop.
Snorkel with Green Hawaiian Sea Turtles
Join us and snorkel with turtles at some of Maui's top snorkel spots, such as Coral Gardens and Turtle Town.  See them up close in their natural habitat. We enjoy taking visitors to common turtle spots so that you can get the opportunity to swim with them.  Make sure to bring your underwater camera!
Join us and snorkel with turtles at Maui's top snorkel spots! You'll enjoy seeing Green sea turtles at Coral Gardens and Turtle Town up-close in their natural habitat. We love taking visitors to Maui's best turtle spots so that you can get the opportunity to swim with them.  Make sure to bring your underwater camera!
Did You Know?
Hawaiian sea turtles love to feed on the algae that forms on the rocks of an ancient underwater volcanic eruption.
Maui Snorkelers can find three native Hawaiian sea turtles or "Honu" in Hawaiian language. The Hawaiian Green Sea Turtle, the Hawksbill & Leatherback Turtle can all be spotted here.
Hawaiian green sea turtles can live 60-70 years and weigh up to 700 pounds!
It is estimated that only 1 out of every 5,000 hatchlings reach adulthood.
Book a private boat charter
Choose from one of our morning or afternoon private charters and customize your event now!
Call (808) 879-8188 or Email.
Have a party between 12 and 45 people that you would like to put on one of our regularly scheduled snorkel trips?
Rather than a private event, please give our reservationist a call to inquire about details and discounts.
We would be happy to host your Maui private party or special event!
Safety Is Our Priority
With over 30 years of experience, our company's mission has always been to provide excellent fun for the entire family and to ensure every one of our passengers has a safe and enjoyable snorkeling experience. Our boats were built with safety and comfort in mind. All crew including captains are certified in CPR and First Aid. Many of our captains and crew have been with us 10+ years and are some of the most experienced in the harbor.
Every Vessel Carries:
first aid kits
emergency oxygen
fire extinguishers
EPIRB
emergency AED's
life rafts & vests
Marine Life Conservation:
We also believe it is important to help in the conservation of marine animals. We help protect the beautiful coral reef's here in Maui by offering reef-safe sunscreen on board. We work closely with the US Coast Guard and Department of Land and Natural Resources, following all maritime rules and regulations. Maui Classic Charters have been safely operating since 1983.
FIVE BIG STARS for Maui Magic Snorkeling and the crew!!  My fiancé and I wanted snorkeling and whale-watching while we were in Maui, and we definitely got both plus some sea turtles with Maui Magic.  They take fewer people than other big boats, and it was nice not to have a huge crowd.
The experience on Maui Magic is truly one to remember. But what caps it off is the great crew of this boat who go the extra step to make sure you are comfortable and feel like family.
I have been on Maui Magic 4 times in our past 3 visits to Maui. Every time we visit Maui it is the most fun/exciting/memorable excursion we go on. The crew is so friendly, fun and helpful! Every time we have seen something different. Dolphins, whales, sea turtles... such an amazing experience!
The Maui Magic has the ideal size, taking up to 50 people. We saw many dolphins, swam with turtles and saw the incredible variety of fish at Molokini. After the last dive a delicious barbecue with cold beer until the Maalaea Harbor. A great day.
We went on the Four Winds II snorkel to Coral gardens it was very calm and beautiful. I saw so many fish, and a SEA TURTLE, I literally swam side by side him! I loved every minute of this trip!
Your crew on the Four Winds II was also amazing! They treated us like we were royalty! We were not sure about what to expect at Coral Gardens, but I have to say... it was beyond my expectations.
Dear Four Winds II, On behalf of Make-A-Wish Foundation of Philadelphia and Susquehanna Valley, we would like to thank you for making Matthew's wish special and unforgettable. Your kindness and generosity will stay with Matthew forever.
The Four Winds II is Fun, Fun, and More Fun! That really describes our entire day that we spent at Molokini last week. The kids loved the water slide so much. Actually, my husband was acting like a kid that day too and had his equal share of trips down the slide.
Went on the Four Winds II, there were just so many fish and the coral formations were breathtaking! My mom doesn't snorkel, but she was able to go into your glass-bottom viewing room and she actually could watch her grandchildren snorkeling... sooooo cool!